Share This
Political Physics: The Importance of Being Prepared
My heart is heavy as I watch events unfold in Japan.
According to the Los Angeles Times, "more than 1,000 bodies wash[ed] ashore in Miyagi prefecture, the northeastern area hardest hit by the magnitude 8.9 quake that struck offshore on Friday and the devastating tsunami it triggered.  [Moreover], the Japanese fear "that the death toll from the devastating earthquake in Japan could top 10,000.  And the fate of tens of thousands of residents of the worst hit areas remains unknown."
The devastation is unimaginable.
But do you know what is even scarier? It could have been worse.
Decades of dealing with disasters has Japan more and more vigilant over the years.  And apparently that vigilance saved lives.  "Japan's earthquake monitoring and tsunami warning system is one of the most sophisticated — and costliest — in the world, befitting an economically developed, seismically cursed nation that, on average, experiences a quake every five minutes (Reuters Africa)."  The monitoring system has been in place since 1952, but has been repeatedly upgraded over the past several decades, particularly after the 7.8 magnitude earthquake in 1993 that triggered a tsunami that was almost 100 feet high and devastated the coast of Hokkaido.  A warning had been issued after the earthquake, but it was too late and hundreds of people were killed.
So today, "the tsunami warning service, which has at least six regional centers, currently sends signals from 180 seismic stations across Japan and about 80 water-borne sensors are monitored 24 hours a day by a computerized Earthquake and Tsunami Observation System (ETOS).  To get warnings out quickly, the Japan Meteorological Agency and [the] media have developed a system to superimpose alerts on TV screens as soon as they are issued (Reuters Africa)."  And the warnings are sent to local officials throughout the country who activate sirens and loudspeaker systems notifying residents that they need to evacuate.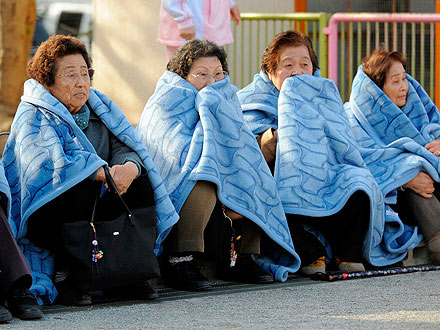 In addition to the monitoring system, Japan has strict building codes.  According to the NY Times, "hidden inside the skeletons of high-rise towers, extra steel bracing, giant rubber pads and embedded hydraulic shock absorbers make modern Japanese buildings among the sturdiest in the world during a major earthquake."  The NY Times also notes that "after the Kobe earthquake in 1995, which killed about 6,000 people and injured 26,000, Japan also put enormous resources into research on protecting structures, as well as retrofitting the country's older and more vulnerable structures. Japan has spent billions of dollars developing the most advanced technology against earthquakes and tsunamis."
Did you know that on average there is a minor earthquake in Japan every five minutes?
This is not a country that underestimated the devastation that an earthquake and/or tsunami can cause.  The scariest thing about what we are seeing in Japan is that it could have been worse…much worse.
And that terrified me and got me to thinking about the importance of being prepared.  I realized that right now my family is completely unprepared in case of an emergency (e.g., natural disaster, manmade, etc.).  We do not have an evacuation plan or a designated meeting spot.  We do not have flashlights in strategic locations throughout the house or essential supplies.  It made me realize that I have not done enough to try to protect the people I love the most.  So I am committing to getting prepared.
I started by going to the Federal Emergency Management Agency (FEMA) website and downloading the Are You Ready Guide. According to FEMA, the guide "provides a step-by-step approach to disaster preparedness by walking the reader through how to get informed about local emergency plans, how to identify hazards that affect their local area, and how to develop and maintain an emergency communications plan and disaster supplies kit."
I downloaded the guide and I am now working my way through it.  My goal is to get better prepared and help my family get better prepared in case of an emergency.  If you'd like to get better prepared, too, you can use the guide as a starting point.  You can download the guide at HERE.
I know that in the end being prepared does not mean I can prevent my family from getting hurt.  Even with all the preparations the Japanese made it could not prevent widespread devastation.
But if even one life was saved, isn't it worth it?
Isn't your family worth it?  Mine sure is.
My heart is with the Japanese and I am keeping them in my prayers.